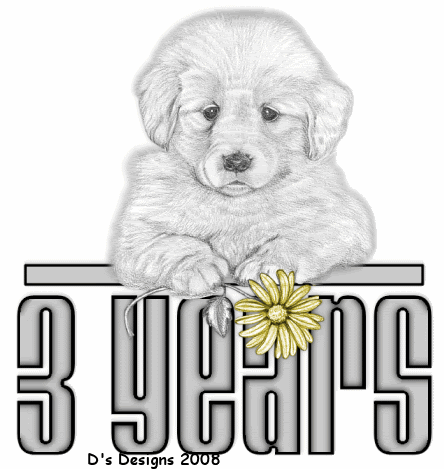 Evening! It's hard to believe it's been 3 years since I started this journal. Ok, 3 years and one day. So much has changed from that day, and so much has stayed the same. I never thought I'd keep with it. I figured I would write a bit and then stop. Who'd be interested in what I had to say or share?
Back in the day it was bit different and there didn't seem to be so much hate, so much trouble, so much jealousy (if that's what you can call it), but the community grew and just like life, like the world, it takes all kinds to make things go around. I've had my share of the bad and ugly, and in a round about way it was good. It brought me closer to some, weeded out some, and showed true colors of many.
So many of you have been around a very long time. Some are new comers. I appreciate you all. My life has not been an open book per say but I've shared many a things and you all stood by me. Sent words of hope and friendship, hugs and strength, smiles and yes some tears. You've given good advise and again, I appreciate all of it. There were rocky times with a few, but we worked through the difficult times and our friendship grew stronger. Some walked away, and yes, I walked away too. It's what life is about. It's unrealistic to think we will get along with everyone, to build foundations to grow on. Reality is we know when to walk away and when to work to fix it. I've heard many a times that people on the Internet are fake. Well, not always. Yes, there are some that want you to believe only to turn and show those true colors and they are colors we'd rather not see, but I've found true friendship too. Friendship that will stay with me forever. I won't name names because I'd forget someone... but you know who you are. If you're still reading this you're probably one that would be on my list :) I say probably only because I know my 'bad and ugly' still visits. That, I fear, will never change, but so be it. A good friend told me they visit because their life is so miserable and so sad they live through me. I laughed and thought how funny, but there is something to that. Why else would someone spend so much time reading and storing my words?
I've changed over the three years. Life taught some valuable lessons. Showed me love, showed me sadness, and you stayed with me. Thank you. My journal has changed to. I may not write the inner secrets of my being, but I think a lot of time my pictures and graphics do the talking for me. Never in a million years did I think I would become so addicted to the graphics, then my picture taking. Your input over the course of these past few years helped me improve, grow, and enjoy it more and more. Thank you!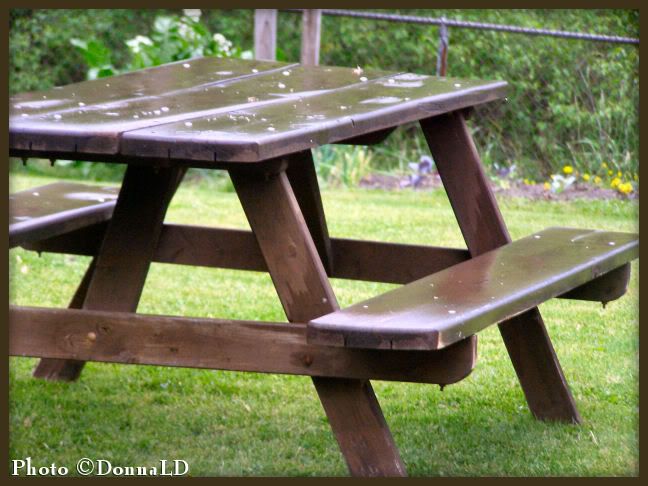 I took the picture of the table just to do it. My initial thought was to show the weather, the numerous days of rain of late. But today, I looked at that table and thought how lonely and sad. Just sitting there empty, much like some folks life. I looked at it again and thought how cool would it be to sit at that table and share a laugh, a smile, a story. Out of the rain of course ::grin:: So to all my friends I want you to know there is a spot at that table for you, and I thank you so very much for joining me.
Hugs
~d