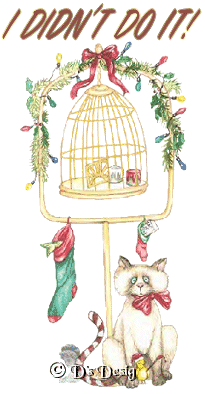 I swear, I did not do it. I did not make it snow again because I posted those graphics. Do not blame me! Blame mother nature, blame the weather man, blame the mid west, blame the lake, just don't blame me :)
Yes, it snowed a bit today. Nothing major on the ground really, but it did snow. It had just started when I went to leave for work in the morning. It was that 'weird' snow. You know, the kind that looks like the fake stuff made out of little Styrofoam pieces. It wasn't hail or sleet, it was snow, but it was ugly and did not compare to my snow, hell it couldn't hold a candle to it! LOL I was out of here before the roads got slick, but apparently they did. I saw a news clip from an accident earlier in the day and the car slid off the road and into a little ditch. In the summer the ditch is nothing. It's all grass and really wouldn't do much damage to a car. I've seen cars actually drive through that same ditch to do a U-turn. But today, well the car was in water up to the windows. ARGH! I bet someone had a bad day today, and Jimmy thinks he is in a foul mood. He didn't mention it was him.................... ya think? Nah........ no way he lives that close to me.
Work was ok today, at least my desk was cleared off and I was able to get my coffee and set it down BEFORE I had to work. I need to thank that helper........ oh yeah, it was me. :::reaching over my shoulder to pat myself on the back::: It was a busy day after a few conference calls with clients but it made my day go faster. Thanks for pointing that out Sam! Now if I could only make the 23rd get here I'd be thrilled. I'm on vacation after that until next year. Hmmm... maybe I should get my shopping done firstbefore I wish the whole month away, eh?
I did have some nice news today. Our holiday card is coming together nicely, looks great. I'm not thrilled with my picture, but what the hell. I'm not happy with any picture! The marketing director had me animate a few pictures, she set up the main page to give to powers that be to decide today. One of Niagara Falls, one of another small iced over falls, and then my moon picture that I added snow to. The decision was made and it was decided they'd not only use my animation but my picture as well. Can I just say I was very pleased and stunned at the same time. :::pushing my chest out:: Oh my, what are those? LMAO
Good gawd, what the heck has gotten in to me? Oh, I know I didn't do it. I didn't type all that silly stuff in this entry! Blame it on.................